Last week we told you about our new part exchange service we are providing and already we have sold out off those parts before we even had the chance to get them on the WebShop. It looks like word of mouth and our little 'ol blog preview has done the trick to get the word out. As the response has taken us a little by surprise by the sheer numbers we have sold, we are getting the old parts to our engineers as soon as we can for the refurbs. Thanks to those that have actually performed the exchange with us, many of whom have come in specifically to see us and take the parts away with them. We even had a couple of comments along the lines of "They look better than the OEM parts". As for those who emailed us saying you can't find them on the WebShop but still want the half price parts; we have responded to you individually to point you in the direction of the full price ones. Somebody even 'offered' to pay "a little more" than the half price to get the exchange one. We think the clue is in the title – "exchange". We shall leave it at that and let you make your own minds up on that one. The exchange products will be going on the WebShop as soon as we get the next batch back to us in our our stock. Unlike some out there, we don't want to put stock on sale and not have any, thanks for your patience in the meantime. We appreciate it.
Customer Cars
'The Pear' has swapped places with the 'The Wolf' for now so that it can be mounted on the ramps. We are waiting for the ramps to be delivered so we can install them in the "fitting" room.
Now it was time to put the rear running gear in place. The rest of the pipework can be routed along with the drums and brakes to the rear.
The rest of the steering linkage was also fitted and applied our default setup.
Sheleanor
After our initial bodywork the car was taken to the customer's spray shop. The car arrived back and it's now up to us to refit it back together again. This car just never grows old.
Lights, glass, trim etc all has to be put back in place. But it will have to take it's turn in the very busy workload.
Article:
DEARBORN – The 2021 Ford Mustang Mach-E earned Car and Driver's inaugural Electric Vehicle of the Year Award, adding another coveted honor to its trophy case and beating overall top-rated EV competitors along the way.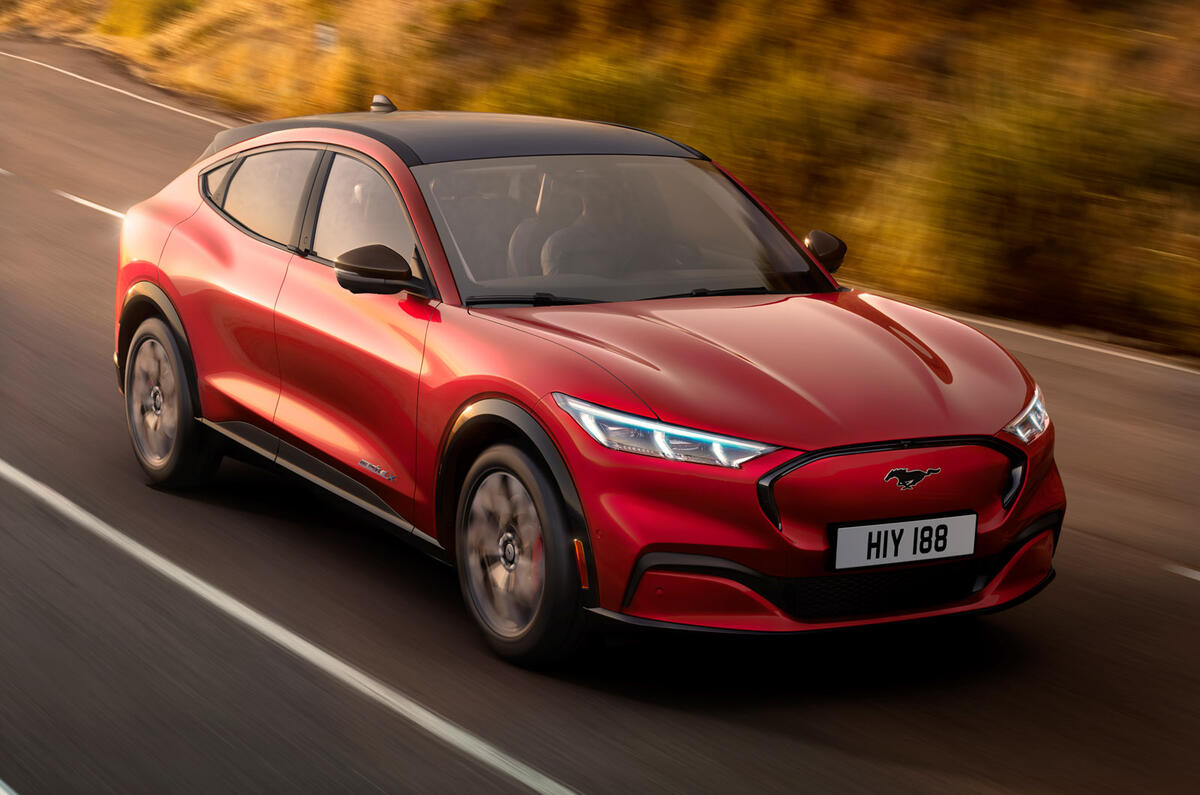 The publication put 11 top-rated electric vehicles through rigorous testing over a three-week period, including a 1,000-mile road trip to evaluate each in real-world conditions. Mustang Mach-E took the No. 1 spot.
"We felt that if a carmaker was looking to convert people from EV skeptics to EV evangelists, there's not a better vehicle out there than the Mustang Mach-E," said Sharon Carty, Car and Driver editor-in-chief. "It's a familiar shape and size of crossover. It's in the sweet spot of what Americans love. It's beautiful. It's a design that gets noticed. It has a range and charging speed that is very competitive."
The newly created electric vehicle award uses the same criteria as Car and Driver's 10Best Awards: The vehicle must deliver exceptional driving engagement, offer indisputable value and/or practicality, fulfill its mission better than any of its competitors and, lastly, be fun to drive – a great description of Mustang Mach-E.
"Mustang Mach-E is the start of what we can do to compete in the EV revolution," said Darren Palmer, Ford general manager, battery electric vehicles. "Its continued success in the form of happy customers, sales and awards are all signs of the momentum we are building. Accolades like the Car and Driver Electric Vehicle of the Year are particularly rewarding for the team who designed this performance battery electric vehicle to be truly fun to drive. It can only get better as we continue to learn from and grow with our customers."
Other contenders include Audi e-tron, Kia Niro, Nissan Leaf Plus, Polestar 2, Porsche Taycan 4S PBP, Tesla Model 3 Performance, Tesla Model S Long Range Plus, Tesla Model Y Performance, Volkswagen ID.4 and Volvo XC40 Recharge. Car and Driver employed instrumented testing, subjective evaluation and side-by-side comparison in both practicality and entertainment value.
The 2021 Mustang Mach-E has claimed a number of other awards including Car and Driver's Editor's Choice Award earlier this year, plus the Cars.com Eco-Friendly Car of the Year Award, AutoGuide's Utility of the Year, Green Vehicle of the Year and Autoweek's Car Buyer's Award.
"We could have made a boring electric vehicle, a compliance vehicle that looks like a dust buster," said Palmer. "But we decided people need an EV with soul. So we built them an all-electric Mustang SUV that is disrupting the status quo in electric vehicles. And the Mustang Mach-E GT and GT Performance Edition are still to come."
Here at Mustang Maniac the car we want to see is the 1,400bhp version.
Maybe then in our eyes perhaps it could be worth the Mustang Badge.
Stay Safe & Take Care!